Udaipur is a beautiful and breathtaking city of Rajasthan and the capital of the Kingdom of Mewar. This city was founded in 1559 by Maharana Udai Singh II and now has become a royal tourist destination that attracts tourists from all over the world. Udaipur is famous for its forts, lush green gardens, lakes, romantic scenery, old temples and above all, its "Palaces". One of the most famous palaces in Udaipur is "Lake Palace Udaipur", also known as Taj Lake Palace. This city is situated near the border of Gujarat in the southernmost part of Rajasthan and is surrounded by the Aravali Range. Get your cheap flight tickets now and explore Udaipur, the beauty and the sights that it offers. 
Udaipur, itself known as the "City of Lakes" houses eye-catching lakes that are the largest and the longest. This city has seven major lakes and is known to be the most romantic spot, but has a hot semi-arid climate with three main seasons. Udaipur's economy is majorly focused on tourism, agriculture, minerals industry and handicrafts, which increased the revenue for generations. Apart from this, the palaces, sightseeing and the landscapes that the city offers to the tourists are beyond imagination and reflect the authentic traditional approach. The royal feeling that you get in Lake Palace Udaipur is just so different from any extraordinary palace and its architecture is worth a watch. Being one of the must visit places in Udaipur, let's have a glimpse of what it actually is.
click here – 3 marketing trends to improve your business
LAKE PALACE UDAIPUR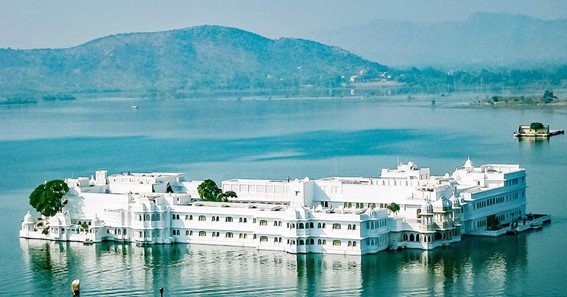 The "Taj Lake Palace", Udaipur is one of the most romantic hotels in the world, was constructed between the years 1743-1746 by Maharana Jagat Singh II (a custodian of The House of Mewar). Lake Palace Udaipur is under the line of a chain of Taj hotels that provides their clients with world-class amenities, elegant interiors, spacious and luxurious rooms and above all, the traditional experience of being in a Royal Palace. This palace was treated as a summer retreat for the Royal Family of Mewar but in 1963, it was converted into a heritage, 5-star hotel by Maharana Bhagwat Singh. The Mughal Influence and the Mewari techniques that were used during its construction make this palace worth the visit and an experience of a lifetime. This hotel was initially called Jagniwas or Jan Niwas and has a total of 65 luxurious rooms and 18 grand suites to give a unique and traditional experience to each of its guests.
Apart from its traditional architecture, its location is another aspect that attracts tourists from all over the world just to experience the culture and feel the presence of being there. Every room in Lake Palace Udaipur has a breathtaking view of City Palace, Aravalli Hills and Jag Mandir as it is situated on an Island in the midst of a lake. You can easily book your tickets with Lowest Flight Fare and travel to Udaipur as this is not a place that you should miss visiting. This Palace has five categories of rooms namely Palace rooms, Luxury rooms, Royal suites, Grand Royal suites and Presidential Royal suites and they vary on the basis of prices, services and the area.
click here – Graphic Design Setup- A New Edge Technology For Visual Treat
Architecture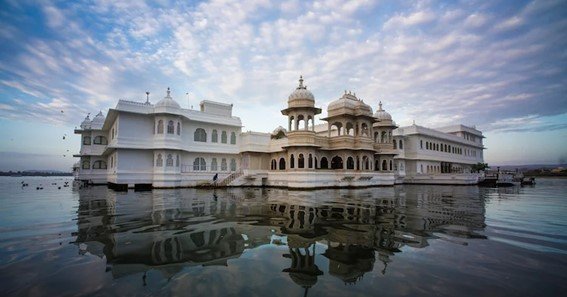 This palace in Udaipur is constructed in the Rajput style and is made of White marbles that enhance its beauty and uniqueness. The Lake Palace Udaipur, one of the most romantic hotels has also been used as a part of movies due to its impressive architecture made of cupolas, balconies, ornamental turrets and domes. The technique used during its design and construction is mainly Rajput style or Mewar style that makes it a place of Royal Heritage. 
This Palace also offers beautiful indoor garden courtyards that still maintain its original charisma. During the construction of new rooms, the architects made sure that the original beauty and traditional view of the entire palace remains intact. 
Hotel Policies
The check-in time starts from 2 PM and the checkout time is till 12 PM. You can avail early check-in or delayed checkout only on request. You are nor allowed to bring your pets along with you and the cards accepted in Lake Palace Udaipur are American Express, Diner's Club, Master Card, Visa, JCB International.
Adhering to the current situation, the hotel has implemented precautionary hygiene measures. Double dose of vaccination and a copy of the vaccination certificate are the two mandatory requirements to carry while you are present at the hotel.
Accommodation
The rooms and suites offer marvellous views of the lake, Aravalli hills and Jag Mandir along with basic amenities like direct dial, television, bar, safe, hair dryer and Wi-Fi access. Lake Palace Udaipur has 33 Luxury Rooms, 32 Palace Rooms, 3 Historical Suites, 4 Royal Suites, 10 Grand Royal Suites and 1 Grand Presidential Suite.
Luxury Rooms
You'll get magnificent comfort in the luxury rooms that are inspired by royal decor. Some rooms have a beautiful view of the Lake while other rooms showcase the precisely maintained Lily Fond of the Palace.
Palace Rooms
Each of its rooms are a perfect example of sheer opulence and the interior exudes the traditional Rajputana aristocracy. It will also provide you the basic amenities and an impressive Lake view.
Historical Suites
Located in the oldest part of the Palace, these suites offer a scenic Lake view and are made up of marble floors. Each suite is different from the other and you will also find a treatment room in one of the rooms where you can experience a royal spa. These suites offer walk-in wardrobe, spacious bathrooms and a sitting area overlooking the Lake. 
Royal Suites
These Suites offer stunning lake views and Aravali mountain range from the stained glass windows. These suites present an impressive interior and traditional decor. 
Grand Royal Suites
These suites have high ceilings, galsswork, carved mouldings, paintings, jacuzzi, crystal chandeliers, decorated roofs and an astonishing balcony view. 
Grand Presidential Suite
This suite is named after Maharana Shambhu Singh and is also known as "Shambhu Prakash Suite". This suite is constructed with high arches and traditional european style interior that also has a balcony with panoramic views.
Lake Palace Udaipur- Restaurants and Bar
The Lake Palace Udaipur also offers a unique dining experience with the best of the restaurants that will suit your taste buds and will make you taste the authentic and traditional cuisine. The major eateries that this palace offers are:
Neel Kamal
This place offers Rajasthani and North West Frontier cuisine. If you want to taste the signature Indian dishes, traditional flavors and royal cuisine of Udaipur, this place is a must visit.
Jharokha
This place offers all day dining and a variety of cuisines from all over the world. This multi-cuisine place has an informal dining setup and is known for its location and splendid views of the lake.
Amrit Sagar
Also known as "Sea of Nectar", Amrit Sagar is a bar and its cuisine includes Asian and Tapas. It is also renowned for its wines, cigars and spirits. 
Bhairo
This is a beautiful and royal rooftop restaurant that offers European cuisine and offers an exquisite view of the Palace of "The King of Mewar" and features mouth-watering delicacies prepared by master chefs.
Wellness and Recreational Services
Palace Leisure Services
It provides you with a heritage walk of the Palace and a special experience of a meal at the location of your choice. Airport transfers, shopping excursions and outdoor pools.
Palace Business Service
Access to broadband. Computers, printers and mobiles on hire and access to wireless Internet.
Recreation
Udaipur theme event, access to outdoor swimming pools and classes of Yoga and Meditation.
Jiva Spa
You will experience a blend of therapies at this unique spa in Udaipur. This spa does not offer you a basic spa experience like any other but also some signature experiences, Indian therapies, Indian Aroma therapies, Spa Indulgences, Body scrubs and wraps and other beauty experiences. 
Conclusion
Lake Palace Udaipur presents the traditional Rajputana Heritage of the ancient kings and highlights the royal architecture along with its exclusive interior. The location of this Palace makes this place worth a visit and what could be better than getting a chance to experience the Royalty of Udaipur? You get ample time to cherish each minute you spend here according to the Palace policies and moreover, you get to stay in the traditionally constructed rooms and suites that offer fascinating interior and other amenities. 
This ancient and royal Palace has it all covered for you as it also provides you spaces and restaurants to dive in the royal cuisine of Udaipur and Indial Signature dishes. Your trip will not only end at this huge Lake Palace Udaipur as it is located in such a place that offers you recreational services and excursion to nearby places such as Chittorgarh, Nathdwara, Mt. Abu and Pushkar.